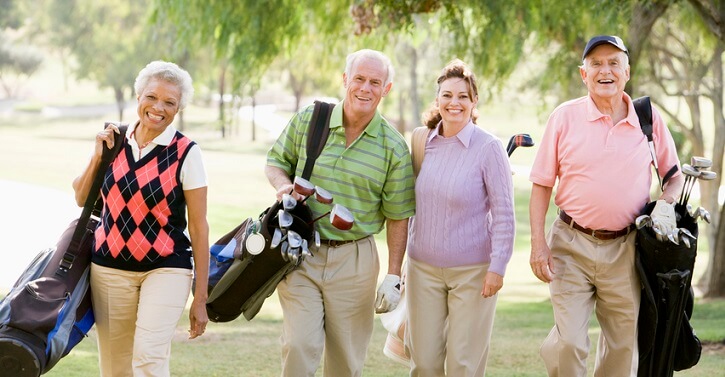 Arizona Ranks High as a Vacation Destination
When we think of retirement, many of us picture sandy beaches, unlimited ocean views, and the cachet of the Sunshine State's lush subtropical locale — a siren song that lures everyone from Spring Break students on up. But is Florida or California the best place for you? It may not be, according to a survey recently conducted by Bankrate.com and reported in USA Today.
In fact, Bankrate.com ranks the Phoenix metropolitan area, including Mesa and Scottsdale, as its #1 best retirement destination — not a surprise to those folks who've already discovered the quality of vacation and retirement homes in upscale condo developments such as North Phoenix's Toscana Vacation Condos While Arizona doesn't boast an ocean panorama, this particular area of the country has plenty more going for it; here are just a few ways relocating or vacationing in Arizona can make your retirement sweeter.
1. Climate, Climate…Did We Mention Climate?
It's obvious why "snowbirds" want to fly south in the winter — and, accordingly, why places in the northeast or far northern states aren't nearly as highly rated for retirees. But not all "warmth" is alike. Arizona does get nice and toasty, especially during the summer months; what it doesn't get is humid. On the other hand, Florida is known for both heat and humidity, a combination conducive to mildew, mold, and other contaminants hazardous to folks with respiratory challenges. There's a reason that doctors prescribe relocation to desert climates for those sufferers: the crisp, dry air of the desert can provide almost miraculously fast relief.
2. Natural Beauty.
Picture a desert and you may picture unending flat land, blowing sand, tumbleweeds, and not much else — but nothing could be further from the truth when you come to the Phoenix/Scottsdale area, with its ambience of color and nuance that is constantly changing. Tour the Grand Canyon? Easy to do from your "nest." Take Jeep rambles, hiking trips, or even seaplane tours? A snap. You won't be without great places to explore on both land and water!
In addition to what Mother Nature provides, upscale condo sites such as Toscana integrate breathtaking landscape design that includes pools, walkways, gardens, shade trees, and lush tropical greenery to refresh the eye and the spirit. Many of us dream of our little "getaway" in the midst of gorgeous gardens; people who retire to Arizona condos see that dream come true without having to put in the backbreaking work of keeping the garden up themselves.
3. Care, Comfort, and Convenience.
Obviously, anyplace you're eyeing for your retirement should be a safe, healthy place to live. But there's an additional measure of reassurance when you find a place that's home to world-class health facilities and holistic healing practices alike, easily accessible for those occasions when you need them. The Phoenix area fills that bill admirably, with both a Mayo Clinic and several hospitals affiliated with the Banner Medical network, ranked both regionally and nationally as among the best.
Focusing on your wellness also extends to your personal safety — and where condo communities such as Toscana outshine the rest. Gated entrances, underground secured parking, and top-flight professional management team onsite all contribute to keeping this condo neighborhood private and secure. Whether you're teaming up with new acquaintances for a shopping splurge at the Marketplace, hopping a shuttle bus to explore Chandler First Fridays, or enjoying an evening splash party at one of the gleaming onsite pools, you'll find an ideal combination of laid-back leisure and conscientious protection in these condo communities.
4. Dollars and Sense.
The best news of all is that all these amenities and activities don't mean a high price tag. In fact, a key element in determining the best retirement spots in America is each site's cost of living…and in this aspect, Arizona truly stands out. Low taxes make it an easy place to invest in a second or retirement home; add in luxury amenities, all included in condo community costs at Toscana of Desert Ridge.
Do a little research, ask happy retirees where they've found the best values…and you might just find yourself thinking of Arizona for your golden years!