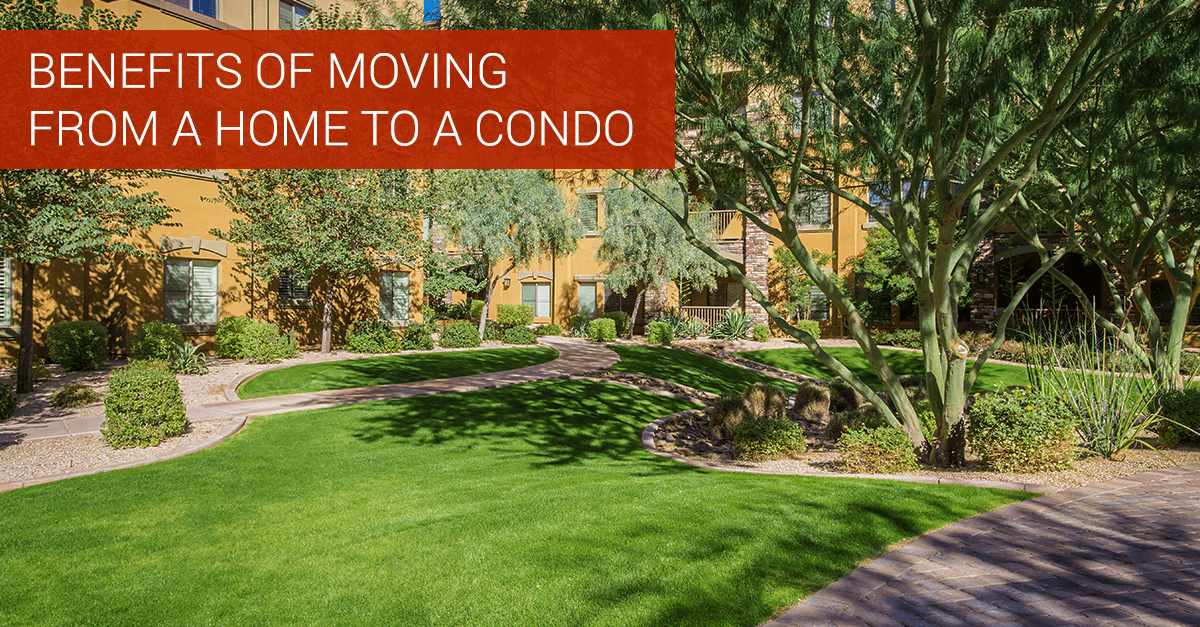 Benefits of Moving from a Home to a Condo
Drawbacks of Home Ownership
Things break, other things need painting, and nothing lasts as long as it used to last. Home ownership means maintenance, and maintaining a budget for things that quit working, many of which can be quite costly to repair or replace. The older a home gets, the more upkeep and maintenance it needs.
Maintenance is not only important for a home's inhabitants but it is also critical for being able to sell a home. Appraisers look at everything when assessing the loan value on a home. Not only is the inside of the home important to maintain, the exterior needs periodic upkeep also. There are safety issues involved as well as issues of the home's value.
The lot on which the home sits also requires a lot of upkeep. Trees and grasses and weeds, oh my! The pollen season arrives each year for homeowners who need to:
Trim shrubbery
Mow lawns
Pull weeds
Reseed lawns
Fertilize
Plant flowers
Lots of equipment is required to maintain the grounds of most homes. Mowers, chipper/shredders, rakes, leaf blowers, shovels, wheel barrows, and aerators are just a few necessary tools. A tool shed is a must for keeping all these tools.
Seasonal allergies can plague homeowners with symptoms like sneezing, nasal congestion, itchy eyes that water, a runny nose, an itchy throat, fatigue and irritability.  It is tough to avoid the problems caused by Hay Fever. Working in the yard during pollen season is guaranteed to trigger seasonal allergies if you are one of the 67 million Americans estimated to have these allergies.
Home ownership also comes with utility bills, which are usually higher in a single family detached dwelling because there is more space to heat and cool than in a condo.
The Pros of Moving to a Condo
When you move to a condo like Toscana of Desert Ridge, you can sell most of your tools, lawn mowers, and other equipment because you will no longer need them. Major maintenance jobs will be a thing of the past. Most condos provide a maintenance staff of talented professionals who take care of all exterior maintenance needs. Some even offer a maintenance staff for interior maintenance.
Many condos also offer amenities that are resort-like. Living in them can feel like a permanent vacation, and condos actually are a vacation from responsibility. With less space to clean, less maintenance to do, and no upkeep for grounds, living in a condo offers you more free time for fun in your life.
No lawn to mow on Saturdays? Why not go on a picnic instead? If cleaning your condo takes you a couple of hours instead of a couple of days, you now have time for a new hobby or to resurrect an old one.
As we become adults and take on responsibilities, many of us forget how to have fun. Life without fun isn't just dull, it is actually unhealthy.
Unfortunately, many of us have become quite disconnected from the ability to have fun. When this happens, the child within all of us begins to curl up inside us and cry. Condo living frees us to indulge our inner kid in fun times again.
Want more suggestions of how to have fun?
Go bowling with friends
Join a meetup group in your city and join in fun activities
Plan a party with food, beverages and a DJ
Play miniature golf with a buddy
Go to a wine festival or a food festival and sample everything
With the resort-like amenities in condo communities, you have all sorts of choices as to how to spend your newly found spare time. If you have wanted to lose a few pounds, now you have time to go to the on-site fitness center or pool. With condo living, you have more time to get together with friends, volunteer, and get involved in the community.
Getting to know your neighbors is easier in a condo also, as all your neighbors are close by. Even children enjoy condo living, and gated community condos are especially good for protecting them. The security offered by gated communities can also give you the comfort of knowing your home is protected.
Trade your home for a condo today and get in on the fun!