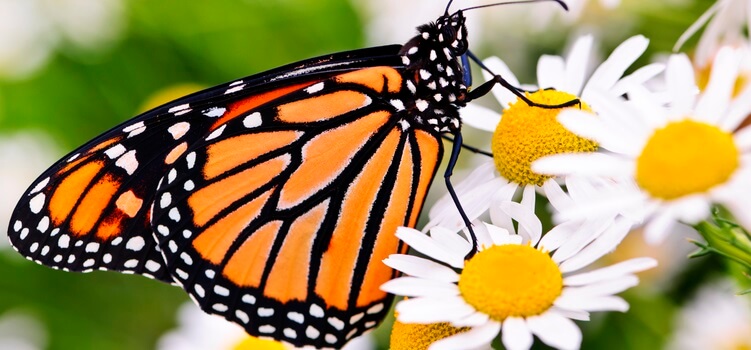 A Winged Wonder: Butterfly Wonderland Scottsdale
You don't have to be a kid to love butterflies — just ask the staff of Butterfly Wonderland Scottsdale, one of the newest attractions of the Phoenix/Scottsdale area of Arizona. Coming from a laid-back retirement residence in one of the local upscale neighborhoods such as Toscana Condo Hotel, you'll marvel as you step inside this, the largest butterfly pavilion in America. In mere moments, you'll go from desert climate to indoor tropical rain forest. Don't be alarmed: this jungle is a friendly one, where thousands of these gorgeous creatures fly freely — and, who knows? One might just land on your shoulder!
Getting to Know Winged Beauty
Enter the lush ambience, with sweet floral and rich green fragrances surrounding you, and make your first stop the Wonderland Theater. There, you'll get a thorough introduction to these fascinating creatures in a special 3-D video, "Flight of the Butterflies." This story follows the migration path of the monarch butterfly, the longest insect migration known on this planet. It follows hundreds of millions of monarchs along their route from Canada across the U.S., to their winter homes in Mexico, a yearly miracle that has occurred without fail for generations.
Leaving the theater, you'll next be treated to a glimpse of metamorphosis in action. Metamorphosis, a Greek term for "change" or "transformation," takes you through the unfolding of the iridescent South American Blue Morpho's wings for the first time, as it emerges from a jewel-like chrysalis before your eyes. And that's just the beginning of the treats you can enjoy in this wonderful place.
Variety as Wide as Nature Itself
From half-day summer camps to special kids' "bug nights" with local wildlife specialists, the Wonderland teems with more than just winged activity for all ages! A partnership with OdySea Mirror Maze next door means double the fun for the young at heart — with the deceptive "Mayan Maze" and a Lazer Maze Challenge Walk-Through as well.
If you like your entertainment a little quieter, take weekly yoga classes amid the butterflies to improve flexibility, assist in relaxation, and make you feel good all over. Or, join a group early in the morning for Waking Up with the Butterflies, a quiet hour that lets participants photograph butterflies beginning their day. Browse for memorabilia or special one-of-a-kind presents in the Butterfly Treasures shop, offering books, souvenirs, jewelry and apparel for anyone on your gift list.
And For Special Occasions…
Love the ambience of the Wonderland? Bring your guests here for special occasions: bridal or baby showers, retirement or birthday parties, family reunions or girls' days out — think about Butterfly Wonderland to make the day truly unique. You can rent the theater (with seating up to 193) for meetings or other functions; even the atrium itself is available, on a limited basis, for such events as small weddings or memorials. For luncheons, dinners, or other parties, Wonderland Café's catering staff prepares fresh sandwiches, salads, and other delicacies.
With a location within the Salt River Pima-Maricopa Indian community, right off the Loop 101 Freeway, the Wonderland is conveniently situated for guests and "locals" alike. Combine the sweet solitude of the rain forest with accommodations at the nearby Talking Stick Resort — with its onsite casino, spa, and golf course — and your family or corporate group will have an event they'll talk about happily for years!
The Wonders at Your Doorstep
This newest addition to the Valley area is only a small part of the many attractions in the Phoenix/Scottsdale end of the world — and you've experienced more than a few of them already, if you're part of the splendid community that is Toscana of Desert Ridge. Don't hesitate to ask their professional staff for recommendations for entertaining out-of-town company, or even just having a special outing from your "home base." The variety of options, both onsite and a short drive away, is almost infinite.