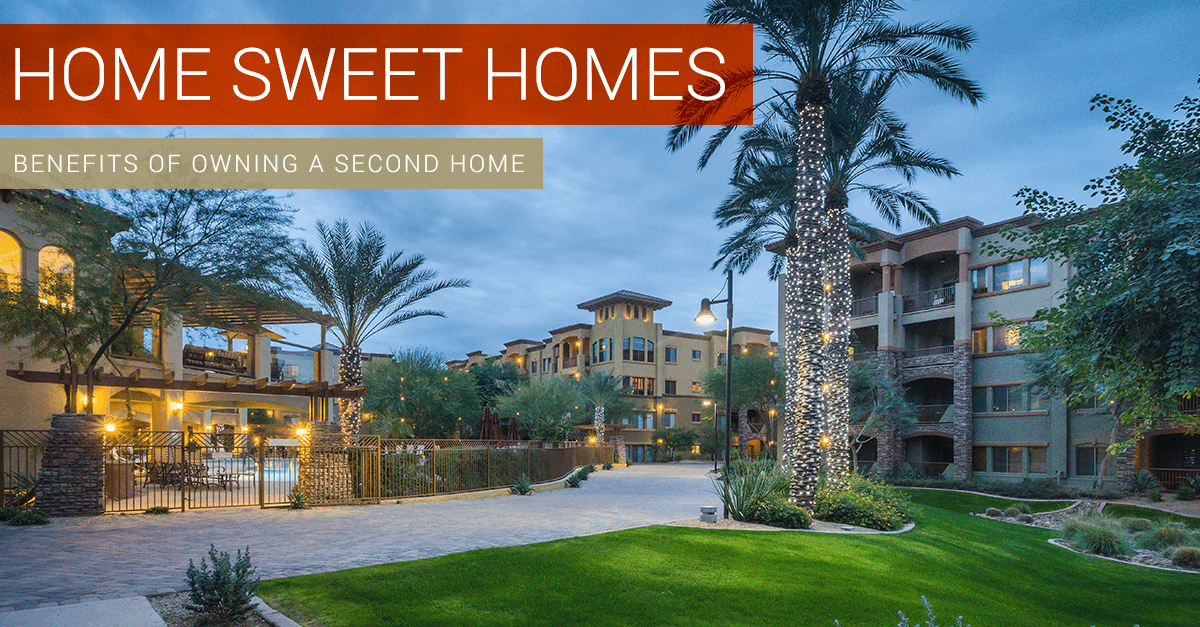 Home Sweet Homes…Plural: Benefits of Owning a Second Home
It's a dream many people consider: to have one "regular" home, and one "vacation" or getaway home. Is it yours, too? Well, it's not surprising. Owning two homes gives you a lot of options, and it has tax advantages as well. Even if you've never thought you could manage a second home, you might want to consider exploring the possibility for the ways it can enhance your life. At Toscana of Desert Ridge, we offer second home ownership, fully furnished condos, and full amenities. Our luxury condo community in Scottsdale, Arizona can be your home away from home. Here are some reasons to invest in a second home.
 1. It can be home-away-from-home…only better.
Are harsh winters getting to you? Are your kids living halfway across the country, or the world? Having a second residence in a warm-weather area such as Arizona, Florida, or California can often be a great enticement to get kids and grandkids "home" for spring break or the winter holidays. It can also be the "go-to" place for family reunions, especially if it's centrally located to cousins and in-laws.
True, the family homestead is the place where everyone grew up and the memories were made. But very few family members object to making new memories in a new place, especially one where they have outdoor fun options all year 'round. And if you love the area enough to buy there, that's a great way to "try it out" as a future retirement destination for your primary residence.
2. It can be a smart place to invest.
Real-estate investment is still a sore subject in many circles, especially with crashes as such recent memory. However, the bottom line is that property is still one of the best places to put your money. Housing markets are rebounding nicely from coast to coast, especially in resort and vacation areas where rentals are in high demand.
That's an important consideration in terms of affordability, too: renting your property when you're not using it can help offset expenses for upkeep and maintenance. However, if you don't want the headaches of being a landlord, you can hire others to do the grunt work for you. Our luxury condos at Toscana are completely managed when you are away, leaving you the opportunity to come and go freely, make money while away, and maintain a stress-free lifestyle.
3. It can be a place to try out a whole new "you."
Have you been living with family heirlooms, treasures from previous generations, or your significant other's tastes? A second home is often the place where you can change that. If your husband loves Colonial, you may try Art Deco at the other place, or vice-versa. The second home can be a blank canvas where you can experiment a lot more easily than you can in your primary home — especially if Aunt Sophie's liable to wonder where her horsehair chair went otherwise.
Some people deliberately create a second home with a specific ambiance In that spirit, your second home can be the beach house you've always wanted — even if it's landlocked! — or it can house such things as collections or hobbies that only clutter your primary living space. Often, these safe places are where you'll hang your personal art, where you'll find out you really don't like minimalism, or where you'll discover a whole new love for rococo. It's up to you, and it's one of the most fun aspects of having that second place to call your own.
4. It can be a priceless change when you need one.
Let's face it, life can throw some curve balls at you. Often, a second home then becomes a welcome place of refuge to tuck yourself away from the storms for a while. When you need an escape, or just a vacation, your "other home" can be a welcome place of refuge.
A short break can be all you need to put your feet back on solid ground, clear your head, and give you renewed energy to overcome new challenges. In any event, being surrounded with things that are "yours" can be healing in and of itself — not a factor to be taken lightly, no matter how long you stay.
"Maybe" Is a Great Place to Start
There are some tempting reasons here to think about investing in a second "nest" — of course, with prudent advice from your financial planner and a careful look at your budget. Once all signs say, "Go," taking the plunge into second home ownership might be something you'll look back on with only one regret…that you didn't do it sooner!