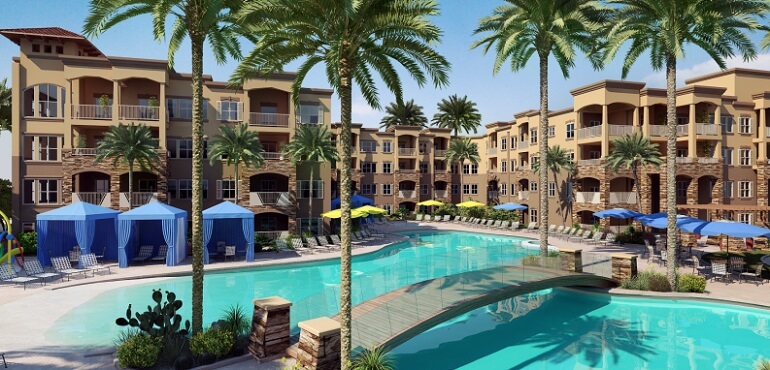 Nightly Weekly Vacations = Earning Potential
Have you been searching for a way to generate additional income when you not on vacation relaxing in  luxury?  The vacation rental industry is a billion dollar industry that has experienced significant growth in the past few years.  In the stressful world that we live in, everyone wants to feel assured that their vacation property is "working" for their benefit even when they are working.  Yes, your vacation home can be that oasis for you and for others by owning a luxury vacation condo at Toscana Resort.
Offset the costs of Homeowner Association Fees and monthly mortgage payments.
If you don't get the opportunity to stay in your vacation condo as much as you would like, lease it out to other vacation visitors and earn income while knowing that your property is well maintained through our Resort Property Management staff.
How can you get started?
Visit our Resort Community that provides the "ultimate" in resort amenities, facilities and a relaxing Lifestyle Experience™.  Purchase a full ownership 1 or 2 bedroom single level, fully furnished, "turnkey" luxury condo for your "home away from home" oasis.
Preparing Your Condo for Lease
The unique concept to purchasing your vacation condo at Toscana of Desert Ridge is the fact that you have "no worries", and "no preparing" is required.  Our On-site 24/7 Resort Property Management staff are there to look after your "best" interests by maintaining your vacation residence when you are not there, and best of all leasing your property on a short-term basis to other vacation visitors giving you the great potential to earn income.
Toscana of Desert Ridge
The beauty of Toscana is that you have the luxury lifestyle in a home that you own, and the ability to rent your vacation condo whenever you desire without the usual "condo renting" hassles. Our On-site Resort Management team will take care of leasing it, managing, cleaning, and even advertising for you. If you choose to utilize our On-Site Resort Property Management we take care of leasing your property for short or long term. We provide owners with quality renters and a hassle free experience that will provide income potential. Toscana offers a wonderful way to off-set the costs of ownership. What a Beautiful Way to Live!
Toscana Resort  (888) 291-9430