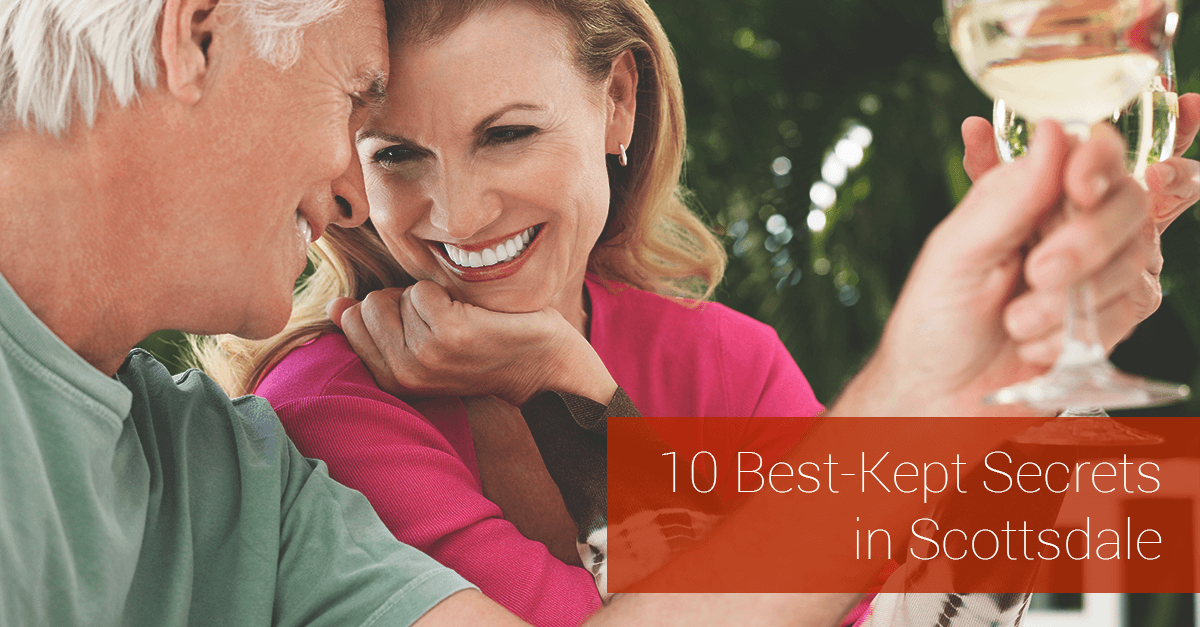 Ten of Scottsdale's Best-Kept Secrets
Every place has them — the hidden gems, places that often even locals take some time to discover. And when they do, they often keep the good news to themselves so these places don't get overrun by tourists. At Toscana of Desert Ridge, we want to share these hidden gems with you: the following are just a few of those gems you can explore when you visit — as long as you agree to keep them very quiet!
1. Taliesin West by Night
If you know about Frank Lloyd Wright, you know about this Western retreat, built in 1937 in the incomparable Wright style. Lit from within, the estate seems to glow, and the famous fire-breathing dragon even deigns to appear! Ambling through the living quarters, Garden Room, and even Lloyd's private office will enable you to appreciate anew how this genius integrated indoor and outdoor space…with gleaming light to lend a romantic ambiance.
 2. University of Phoenix Stadium Tour
Not often can you peek into a Super Bowl site as an "insider," but this stadium tour lets you do just that. For over an hour, you become part of the action: you learn how the retractable roof works, get views from every nook and cranny and see the inner workings of a world-class athletic venue. The tour is 100 percent wheelchair-accessible, and pictures are fine!
What are you doing the first Friday night of the month? Stop at the Arizona Science Center every third Friday of the month from 6 to 10 p.m and it is not free, but very low priced. The Center opens its doors with lectures, cash bar, and Arts 360 in the Dorrance Planetarium. No cover charge and four floors of interactive brain fun? That's a great night out at an unbeatable price!
More than just pizza and other great food await you at this pizza parlor. The Organ Stop's Wurlitzer theater organ, originally built for the Denver Theatre, was used regularly until the 1930s when "talkies" put an end to the demand for organ music during movies. An unfortunate fire damaged its inner workings; but, thanks to modern technology, you can get a good idea what the original sounded like on Organ Stop recordings, available as great souvenirs.
Sounds like a contradiction, doesn't it? But you can have waterfront fun, even in the midst of the desert, thanks to Desert Splash Adventures. From breathtaking Roosevelt Lake flyovers to paddleboarding trips and even private island parties, these air-tour specialists have it covered!
Where can you dine on an elegant patio, enjoying famous sticky buns, at a place that was formerly a school for girls? The answer is El Chorro, which began life as the Judson School for Girls in 1934, then was converted three years later to a restaurant. Its patrons have included such luminaries as Clark Gable, John Wayne, and Barry Goldwater, and a special path between it and the Camelback Inn was a favorite way for guests to refresh themselves at its Classroom Bar. Now, it's a Phoenix classic!
Yes, it's that Wrigley — William Wrigley, Jr., of chewing gum fame — and this is the place he built in 1932 as a 50th wedding anniversary present for his wife! A magnificent amalgam of Spanish, California Monterey, and Mediterranean styles, it's a place for not only the best parties but one you can explore with a tour guide who'll tell you all about the history and the mystery of the place…complete with ghost stories!
Sprung from a fertile riverbed, the Farm at South Mountain has seen its share of characters. These included Skeeter Coverdale, the original caretaker of 100 pecan trees and harvester of some 5,000 pounds of pecans annually. When he decided to move away from where he could "drink beer, swat flies, and tell lies," new owners developed the estate into a mix of gardens, restaurants, and markets. Now, they serve the greater Phoenix area with what they're proud to call "a truly farm-to-table experience."
At the end of Apache Trail, Arizona's first highway, in the heart of Superstition Mountains, you'll find a replica steamboat that offers delightful tours of the inner waterways. It won't surprise you that this was a favorite destination of Teddy Roosevelt, with its combination of wildlife and natural beauty, in what's been nicknamed the "Junior Grand Canyon." A friendly crew and impeccable service make for a "mini-vacation" you'll want to take more than once!
The Ullman Terrace of the Desert Botanical Garden is the scene of a concert series with entries from high-energy Celtic to Native American pipe and guitar, blues and jazz ensembles, and both solo acts and groups that perform Colombian, Brazilian, funk, soul, and R&B tunes. Running March through June, these programs weave melodies through the mellow night air that will keep you humming long after the lights go out