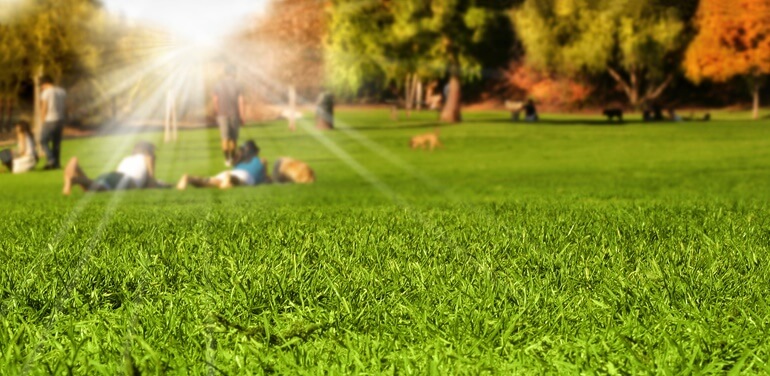 Toscana of Desert Ridge in Arizona is surrounded by outdoor beauty. Lovers of nature will be able to feel at home pretty much anywhere in the state, as you're really never far from a hiking trail, stunning natural landmark, or wildlife encounter. But even the most dedicated nature fan may sometimes want an experience that's a bit closer to home, while still enjoying the fresh Arizona air. Lucky for them, there's a huge assortment of beautiful parks in this state, from local to national. Each offers something special to visitors, each has its own distinct feel and personality, and each is conveniently located so no matter where in the state you live, you'll have somewhere great to go. Here are 5 of Arizona's great parks for you to check out!
A great park has a way for everybody to get active, and this 50.5-acre facility is no exception. The Indian School Park features a full playground, horseshoe pit, lake and clean restrooms, but also has an impressive variety of activities for any group looking to be active. Here you'll find 4 racquetball courts, 2 full basketball courts, 2 baseball fields, 4 sand volleyball courts, and shuffleboard and bocce courts. Each court is independently lit, meaning you can grab a group and play any time the park is open. Tennis lovers aren't left out either–Indian School Park features a Tennis Center with 13 fully-lit tennis courts for players to enjoy.
You may wonder why something called a "mall" is here in this article, but trust us: this isn't your average park. Here, you'll find a beautiful outdoor space with walking paths, colorful gardens, lakes, multiple fountains, and plenty of grassy space to relax with friends and family. Here you can also enjoy beautiful sculptures, browse shops, and get a bite to eat, making this a true civic center. While you're here, you can also check out the Scottsdale Center for the Performing Arts, the Scottsdale Museum of Contemporary Art, or the Civic Center Library.
If you're looking for something a bit more active, give Pinnacle Peak Park a try. The park is a 150-acre stretch of land that features indoor restrooms, picnic space, and a 1.75 mile out-and-back hiking trail with a 1,300 foot elevation gain. Progressing down the trail will give you a scenic view of the valley beyond, so make sure to bring a camera. There are even 3 areas of the park designated specifically for rock climbing! Note that this park does not allow dog walking or bicycle riding, and suggests the nearby Brown's Ranch Trailhead for those needs.
This park does a fantastic job of embodying the phrase "Something for everyone." This 35-acre park features 3 reservable soccer fields, 2 reservable baseball fields, a full fitness center, and plenty of paths and trails for all. But there's much more hidden away at this park that you wouldn't find just anywhere, and these extra amenities are what makes it so special. Visitors will be treated to a full aquatic center featuring a heated 10-lane competition pool, a leisure pool, and a fun park featuring splash pads, waterslides, and a relaxing lazy river. Those looking for more dry entertainment can access a 16,000-foot skatepark with street-style setups and a 10-foot deep bowl. Skatepark access costs a small fee, and six-month passes are also available.
No article on Arizona parks is complete without this national treasure. With a length of 277 miles, a width of 18 miles and a depth of 6,000 feet, the Grand Canyon is truly a wondrous sight to behold, and there's even more to do at the park once you've seen it. There's plenty of hiking and exploring to be had, free shuttle trips to various vantage points, mule rides, and much, much more. Plus, there's a National Geographic visitor center and theater where you can learn of the canyon's history and formation, learn about the sites you're about to see, and prepare yourself for a truly memorable day.