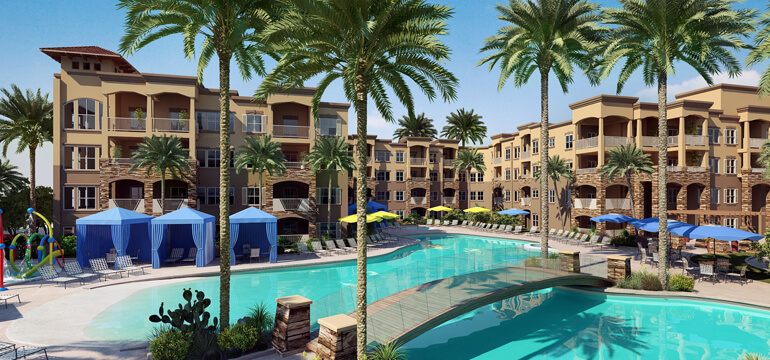 Toscana of Desert Ridge – Ranking Arizona's #1 High Rise Condos from 2010 to 2014
Let's face it – Arizona is incredibly beautiful. Toscana of Desert Ridge's high rise condos offer the best of both worlds; a quiet atmosphere with amazing views. The mountain views from a high rise in the Phoenix and Scottsdale area is truly incredible. Many Arizona natives are flocking to purchase high rise condos in various areas of the state as investment properties due to the sheer number of visitors who vacation here each year. Here is some information about the most popular areas of Arizona and a few high rise tidbits that you won't want to miss.
Phoenix
The greater Phoenix area, including Scottsdale, Peoria, Glendale, Gilbert, Tempe, Avondale, Chandler, Lichfield Park, and Deer Valley, has grown by leaps and bounds in recent years. Many high rise condos have been developed and we feel that this trend will continue for many years to come. The Phoenix area continues to be one of the most popular winter home spots for people who live in northern states.
Phoenix high rise construction is already planned in three areas for 2014-2015. Portland Park will see a new 14-story condo project at Portland Street and Central Avenue; a 10-story biomedical research center will be built at Seventh and Van Buren; and we will see a 19-story hotel with 320 rooms on Central Avenue and Madison Street. An increased number of high rise condo options are sure to follow in the near future.
Toscana of Desert Ridge offers affordable pricing from the low $200's and our buyers enjoy all of the benefits of our on-site Resort Property Management. Phoenix high rise condos are a very good investment opportunity for investors and second homeowners who plan to use them to generate  income through short and long-term vacation rentals in Phoenix. Premium rent prices offer an incredible income potential.
Toscana of Desert Ridge High Rise Amenities/Facilities
Our exceptional Amenities and Facilities within our Toscana Resort are truly something to be experienced. You may enjoy our fitness club with the option of your own personal trainer, or an available relaxing spa experience. Or take in a quiet evening in one of our lounge areas with two-sided fireplace if you prefer a nice quiet evening in. More social condo owners or visitors may choose to visit the media center to take advantage of our NFL and NHL sports package, billiards and game room, or our outdoor barbeques.
We even have an on-site Concierge Director who will help you discover whatever it is that you're really looking for in and around Toscana of Desert Ridge. Take advantage of her knowledge of the area as well as her expertise in helping people achieve their vacation experience goals. Our goal is to make your life, and the lives of your guests, as comfortable and convenient as possible.
Arizona Real Estate
Arizona has a lot to offer anyone who chooses to invest in the real estate market. Small cities and towns are full of land and opportunities for developers who would like to push for growth and development. The larger cities are also expanding very quickly, and offer wonderful investment opportunities for people who enjoy the real estate game.
High rise condos in Phoenix provide amazing views of the surrounding mountains and valleys. The increase in high rises from 2010 to 2014 has been astounding. Phoenix has grown by leaps and bounds, and continues to attract new investors and second homeowners year after year. If you're planning to invest in a high rise this year, please contact us. We would be happy to show you the units we have available and discuss your options.