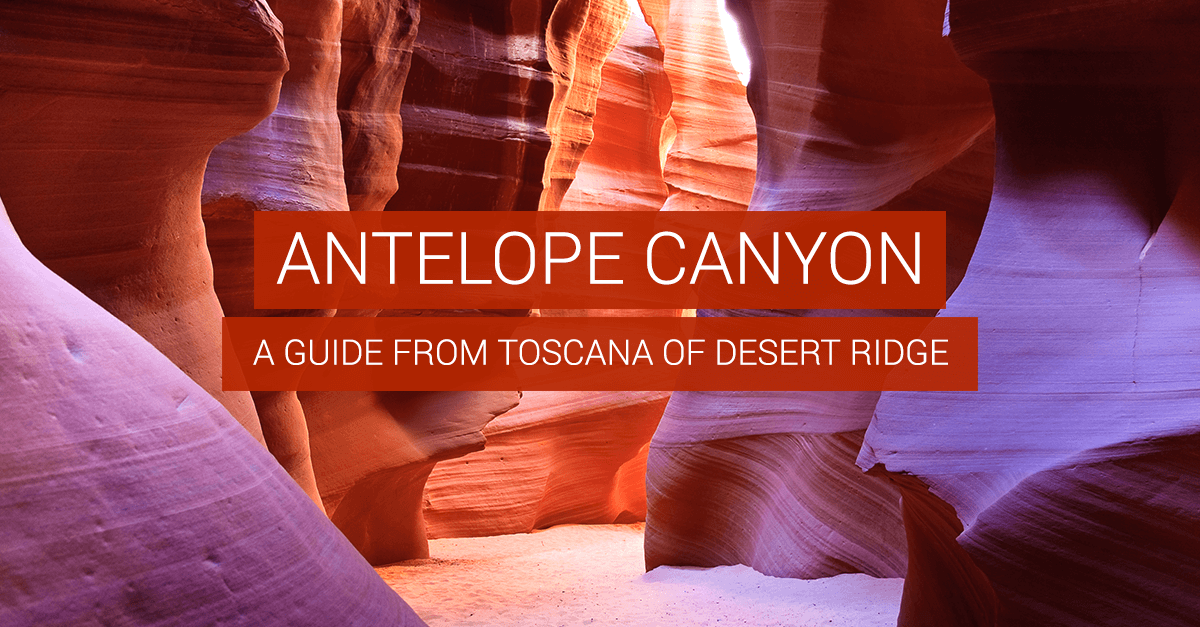 Visiting Antelope Canyon – A Guide from Toscana of Desert Ridge
Antelope Canyon affords such exquisite views that even National Geographic couldn't resist basking in its glory. The geological wonder is situated near the northern border of Arizona on Navajo lands, just east of the City of Page. From Toscana of Desert Ridge, it's about a four-hour drive, but if a photo of it can sell for 6.5 million dollars, seeing it in person is a luxury you can't afford to miss.
Breathtaking Navajo Sandstone
Antelope Canyon contains two distinct slot canyons. Formed out of Navajo sandstone, the rocks take on a painted appearance.You'll see sweeps of red, tan, white, and gold, the likes of which can only be seen in the southwestern United States. Rainfall over the years gradually weaved a path through the soft sandstone, providing the deep, yet narrow, crevices.
Where Water Runs Through Rocks
Although later settlers named the area after the pronghorn antelope which inhabited it, Native Americans called the upper canyon "Tse' bighanilini," or "The Place Where Water Runs through Rocks." It may also be simply referred to as "The Crack," by locals. Whatever name you choose to call it, it's still the area where National Geographic's snapshot, and the world's most expensive photo, were taken. Naturally, it provides some of the most exquisite views on earth. Due to the narrow formation of the top, sunlight beams filter downward, casting spotlights which have been described as "spiritual" and "hauntingly beautiful." However, the upper canyon is also a favorite among tourists because no climbing is required to enter it, nor to explore its full length.
Spiral Rock Arches
The lower canyon is called "Hasdestwazi" by the Navajo, which translates to "Spiral Rock Arches." It affords views very similar to the upper canyon, though it requires some effort to observe them. There are areas with unsure footing and several flights of stairs are required to exit the canyon. However, this generally keeps casual observers at bay, allowing you to take in the experience with more solitude.
Preparing for Your Visit
If you wish to visit Antelope Canyon, you will be required to have a tour guide. During monsoon, water can sweep through the canyons with almost no warning, so it's essential to have someone accompany you who is familiar with the land. The Navajo Nation Parks and Recreation Department licenses only a few companies to provide tours, and only approved guides may take you to the canyons. Most of them have offices in Page and you can arrange your tour upon arrival. However, if you're making the drive up from Toscana of Desert Ridge, it's wise to call ahead and reserve your spot. Although Antelope Canyon is always majestic, the light beams shine best from April through September. Flooding is rare, but if it occurs, it's most-likely to happen between July and September.
Planning Your Day
The Navajo Nation Parks and Recreation Department limits you to two hours in either the upper or the lower canyon. Some tour companies offer packages which will allow you to spend the full two hours at each, while others can guide you through the one of your choosing. If you have time between tours, Page has several top-notch restaurants, shopping, and many other natural wonders to explore.
Hours and Fees
Access to the Antelope Valley requires paying an entrance fee. This is done at the Visitor Center and parking areas as you first pull into the parking lots. You can opt for a day pass or get a multi-day pass that saves a little money should you plan on exploring multiple days. The park is one seven days a week from 8:00am to 5:00pm during peak season (late March through November 1) and 9:00am to 3:00pm during the off season (November 2 through early March). The entrance fees allow for overnight camping in designated primitive camp sites.
Guided Tours and Naturalist Interpretive Talks
Should you wish to learn from the experts about the Antelope Valley and all its flora, fauna and geologic wonders, there are guided tours available for most levels of hiker. Reservations are strongly suggested as these fill up fast. If you wish to skip the long hikes yet still learn of the area there are naturalist talks daily at the Visitor Center. Simply show up and listen to learn. For those taking the guided hikes, be sure to bring extra water, food, a sunhat, sunglasses, strong sunscreen, sturdy hiking boots and an extra layer should temperature fluctuations occur (not uncommon in the desert).
Backcountry Camping
All backcountry campers are required to get a permit from the Rangers. These fees cover your access to the backcountry and allow you to camp throughout the Antelope Valley, not being restricted to the camping areas found around the Visitor Center and environs. Backcountry camping fees are in addition to the entrance fee paid upon arrival. You may be asked to file a trip plan or show you have the proper gear for your proposed trip, as safety precautions. If you are planning such a trip be sure to read about desert camping techniques and be very familiar with them.
Photography
Be sure to bring your cameras during your excursion to the Antelope Valley. This area has splendid scenery, including striated canyon walls that show the immense rock layers that span billions of years. Due to the canyon walls in the valley, the sun gives unique qualities to the rocks, colors and shading throughout the day. Depending on what type of pictures you wish to take the guide pamphlets found at the Visitor Center help provide the needed information for what times yield what sort of sun within Antelope Valley.
There is a very short period of the main season where the poppies are in full bloom within the Antelope Valley. During these times photographers have access to some of the most magnificent displays of the blooming fields of the flowers, seemingly painting the rolling hills in shades of orange, red and even pinks. The poppies are typically in bloom mid- to late April and they are spectacular.
There are shifting sand dunes that when captured under the right sun give fantastic photo opportunities. Slot canyons and the walls are prime for picture taking as well.
Flora and Fauna
As mentioned above, one of the biggest draws to Antelope Valley are the poppy fields. But these are just one aspect of the abundant flora found with the Antelope Valley. Look for pinion pines, cacti, and other wild flowers.
There are many wild animals in the Antelope Valley, including the animal the park derives its name from. Look for wild antelope, desert big horn sheep, coyotes, prairie dogs and desert squirrels as they scamper and make their way within the desert environment. Keep an eye to the sky for golden eagles sightings and a variety of hawks.
How to Get to Antelope Valley from Toscana Ridge
From Toscana of Desert Ridge, take Highway 264 until it connects with Route 12 following signs towards Page and then past, following signs to Window Rock. Here you'll find signs directing you to the access point for the Visitor Center.
It is well worth the trip to Antelope Valley. This area is a natural wonder and the opportunities to learn about the natural history and the Navajo traditions and history of the area are all available at the Visitor Center. Take the time to enjoy a wonderful trip from Toscana of Desert Ridge.