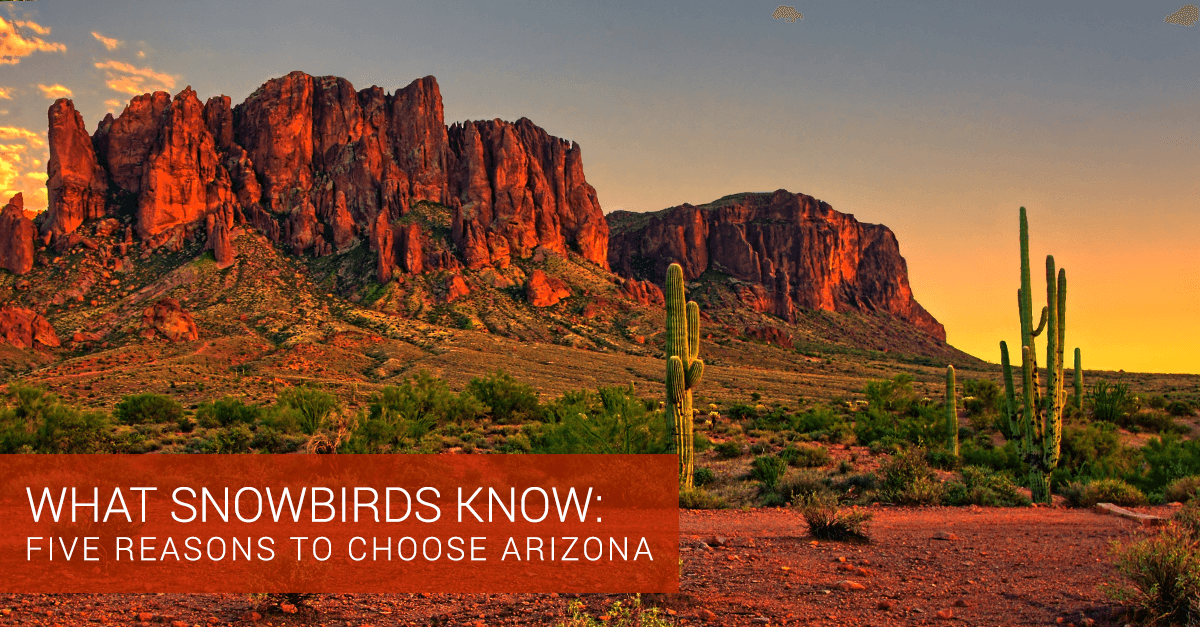 What Snowbirds Know: Five Reasons to Choose Arizona
When you get to the point in your life where you just don't want to deal with nasty winter weather anymore — when you want "snowflakes that stay on my nose and eyelashes" to be just a song lyric and not a reality — you still have a decision to make. Which warm spot will suit your retirement and leisure plans best?  If the place that speaks to you is an upscale condo development such as those at Toscana of Desert Ridge, don't be surprised: Arizona has increasingly become a snowbird's go-to spot for many reasons. Here are five of the best:
1. The weather is far from frightful…
In fact, it's frequently delightful: 300-plus days of sunshine a year, balmy nights, and low humidity make Arizona a destination even doctors have recommended for people with delicate respiratory systems, allergies, or any condition that can make it hard to breathe. Even those without any health problems often "breathe easier" in less humid and sticky conditions.
While desert nights become cool in the fall and winter, winter day's lows are still warm and comfortable. The weather is a snowbird's paradise.
2. Buying your dream house can be a snap.
The real estate markets in Phoenix, Scottsdale, Chandler, and surrounding neighborhoods are experiencing an upswing in real estate — with the added plus of low property taxes. In fact, a recent survey by Bankrate.com ranks this area of the country as its #1 retirement destination, with those low taxes and great housing values being a prime reason.
Additionally, buying or renting in an upscale condo development gives you all the pleasures of home ownership with none of the hassles: yard work, lawn mowing, landscaping, and pool and other maintenance chores are all done for you. Getting more "bang" for your buck in terms of space, plus being waited on rather handsomely? It's an unbeatable combination.
3. You're in the center of it all.
The phrase "location, location, location" isn't useful just for realtors — it's another prime reason people flock to this area of the Southwest for leisure time and retirement. You're within reasonable driving distance of the peaceful serenity of the Grand Canyon, the White Tank Mountain Regional Park — or the bright lights of Las Vegas. But you don't have to leave the "neighborhood" to make great memories, either. Whether you love flora, fauna, food, or fashion, you'll find great sources here.
Between Scottsdale's Fashion Center, the Desert Ridge Marketplace, First Fridays in Phoenix, and a bevy of art galleries, museums, and festivals, your social calendar can be as full as you want! Love Native American lore? Arizona is one of the best places to research it. Adore sports and the outdoors? Indulge in river gorge flyovers, hiking, four-wheeling, and camping…take in baseball or NASCAR racing…shoot 36 holes at championship-level courses…or simply work on your backstroke time in the pool. Fine dining, culture, music, art, and shopping-'til-you-drop: it's all here.
4. When you need it, world-class care is here.
Your health may well improve by leaps and bounds from Arizona's great climate alone…but things can still happen. In the event that you need medical care, Arizona's among the best places in the U.S. to find it. Phoenix's Mayo Clinic is just one of the top-notch health facilities snowbirds will find here, along with several branches of other major hospital networks.
Not surprisingly, with its extensive background of Native American wisdom, this area of the country is also host to alternative and holistic healers of all sorts. Whether you seek massage therapy, acupuncture, herbal medicines, yoga or other bodywork, you can find a practitioner here who'll take great care of you. And, with easy access to regional farmer's markets, organic co-op farms, and supermarkets that offer vitamins and cruelty-free cleaners and cosmetics, you can keep your health in tip-top shape as well.
5. Living well is part of everyday life.
Any place can warm you up from winter's chill — but not just any place can offer you the total package Arizona can offer. Gorgeous scenery, breathtaking sunrises and sunsets, culinary adventures and cultural enrichment…they're all here. And living in gorgeous luxury, such as Toscana of Desert Ridge, can be both more affordable and more accessible than you've ever thought. Do some research and learn what many snowbirds already know: Arizona rocks!