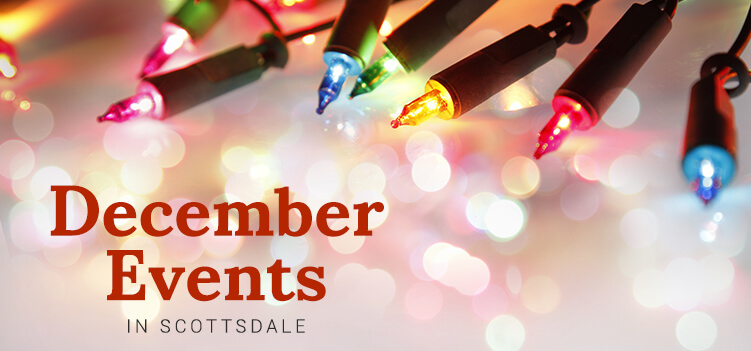 Holiday Events in Scottsdale
'Tis the season for togetherness, and Toscana of Desert Ridge invites you to spend the winter holidays in Scottsdale, Arizona. December is right around the corner, but our warm desert sunshine and cozy Southwestern hospitality will keep the cold away. So pack up the whole family and enjoy any of these enchanting Holiday events in Scottsdale!
Wonderland Market – Friday-Sunday, December 4-6, 2015
Exhibitors from all over the US will be showcasing their fabulous jewelry, clothing, decor, gourmet goods, toys, and other gifts during this 3-day shopping extravaganza! Shop the red carpet, enjoy local musicians, and immerse yourself in the sights, flavors, and sounds of the holiday season. WestWorld, 16601 N. Pima Rd, Scottsdale, AZ 85260. **approx. 9 miles
Holiday Pet Festival – Saturday, December 5, 2015
An exciting day of interactive activities, arts & crafts, demonstrations, and exhibitions for the whole family! Meet hundreds of animals looking for their forever homes this holiday season. Animal rescue groups, veterinarians, and animal care professionals will be on-hand to answer questions and provide information. WestWorld, 16601 N. Pima Rd, Scottsdale, AZ 85260. **approx. 9 miles
Holiday Family Fun Night – Saturday, December 5, 2015
Bring your blankets and enjoy a fun-filled Holiday Family Fun Night! There will be a canned food drive supporting the Vista Del Camino food bank, as well as holiday crafts & activities, city informational booths, live entertainment, and a movie in the park! Vista del Camino, 7700 E. Roosevelt Street, Scottsdale, AZ 85257. **approx. 22 miles
Holiday Lights at McCormick-Stillman Railroad Park – December 11, 2015 – January 2, 2016
All aboard Arizona's most unique holiday event! Take a train ride through festive holiday lights and dazzling displays, and watch the Railroad Park transform into a winter wonderland right before your eyes. Opening night festivities will include a tree lighting ceremony, entertainment, and a visit from Santa. 7301 E. Indian Bend Road, Scottsdale, AZ 85250. **approx. 23 miles
Carefree Christmas Festival – Friday-Sunday, December 11-13, 2015
This free event features a lighted holiday village for day and night shopping, seasonal food and drink vendors, live holiday dancing and singing, carriage rides, carolers, and a live Nativity display. Spectators crowd the streets for the Electric Light Parade's vibrantly decorated floats and evening firework display. A Kid's Zone provides entertainment for all ages, including 35 tons of real snow, a snow slide, Santa's Grotto, train rides, and other amusements. Sanderson Lincoln Pavilion, 101 Easy Street, Carefree, AZ 85377. **approx. 13 miles
Your luxury condominium will make you feel even more at home for the holidays with its cozy amenities and comfortable accommodations. The convenient location of our Scottsdale community puts you within walking distance to High Street and all its festive dining, shopping, and seasonal sights.