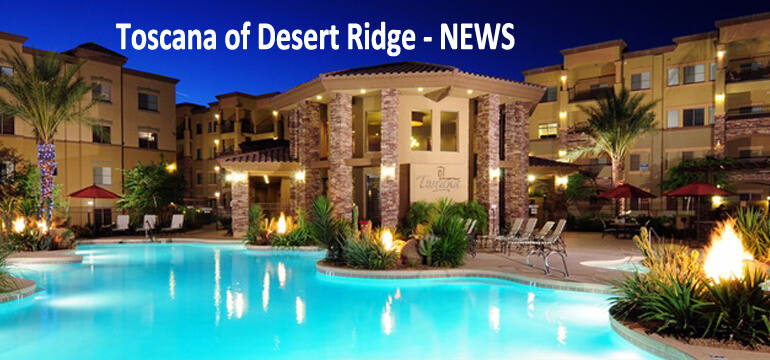 Live in A Condo Before you buy One: A Vacation on Us!
Buying a Condo: Not a Small Decision
Buying a Condo or home can be a scary decision to make. Have you ever taken a tour of a home and still felt uneasy about the purchase? What if you don't like it once you've moved in? What if you missed a detail that will take the joy away from your new purchase?
When thinking about where you will live your life, it's undoubtedly a decision to not make lightly. Money aside, you want to be sure that the place that you call "home" is worth every day and night that you spend in it, right? What if you could spend time in your home before you buy it?
At Statesman group, owner of Toscana of Desert Ridge, we want you to be confident in your future purchase, and to know for sure that our Condos are the right fit for you. That's why we've decided to do something out of the ordinary!
Vacation on us
Statesman group has begun a new promotion at Toscana of Desert Ridge. We invite you to come vacation with us. For up to two weeks you can come and vacation at Toscana of Desert Ridge. At the end of your stay, if you decide to purchase a Condo, you will be credited up to $1000 in Airfare, as well as the base rate during your vacation. You will be able to live in a condo at Toscana before you buy one, and for nearly free.* Maintain full confidence in your purchase for little expense.
Live in a Toscana Condo
This is your opportunity to live in a Toscana Condo before you decide to buy one. Our Fully Furnished and Accessorized Condos will fulfill your living needs, and impress you with their sleek and comfortable style that include everything from a washer and dryer, to granite countertop options.
Explore the Lifestyle
You'll be able to see for yourself why our Mantra is: "What a Beautiful Way to Live." Use our wonderful amenities, including our Heated Resort Pool/ Spa, Fully Equipped Fitness Center, Media Center, Teen room, and Clubhouse!
Discover the Location
Toscana is surrounded by attractions like two Championship Golf courses, shopping and dining and activities: e.g. local events such as the Waste Management Pro Golf tour, the Scottsdale Art or Culinary festival, or outdoor adventures like hiking, biking, and even hot air balloon rides.
No Expectations
With no pressure, we encourage you to relax and discover what your life could be at Toscana. Buying a home shouldn't be stressful, and neither should living in one. Come vacation at Toscana for up to two weeks, and make your decision, stress free.
Contact
Interested parties can contact Toscana Vacation Condos at 1-844-867-2262 or (480) 767-5665, or visit the resort dedicated website www.toscanaofdesertridge.com.
*Credit for $1,000 airfare cost, and base nightly lease rate is paid at closing.  Excluding taxes, resort fees, cleaning fee, and any other damages.