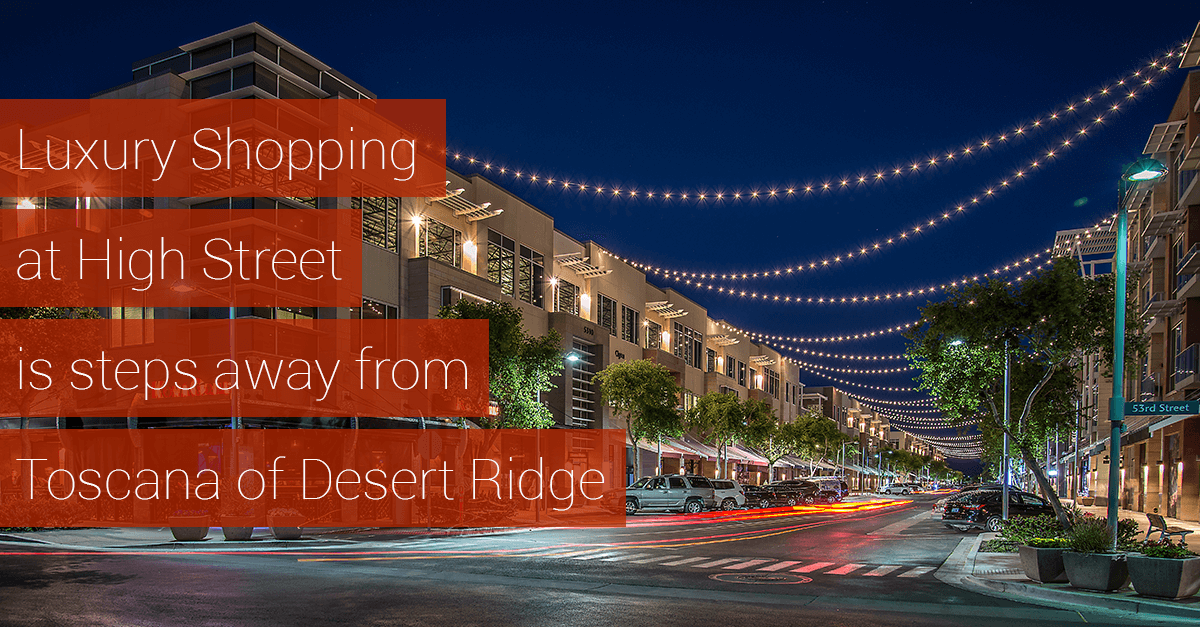 Luxury Shopping at High Street is steps away from Toscana
High Street is one of the most exciting places in Phoenix, and those who live in or around it know that fact firsthand. Our Toscana residents know there's always something going on there. Also, there are plenty of services ready to help with more necessary matters. It's a centralized location for food, luxury shopping, services and more, so it's easy to see why it's quickly becoming the most talked-about spot around Toscana of Desert Ridge. New businesses are moving in all the time, so here are 6 great places we think you'll enjoy checking out!
Located on High Street in North Phoenix, La Bocca Wine Bar & Urban Kitchen is the second La Bocca location in Arizona. Their quality, made in house menu paired with an outstanding wine selection, and a unique wine by the glass program are just part of what La Bocca brings La Bocca North. Not a wine drinker, look into the outstanding selection of whiskeys and our house cocktail list, developed by some of The Valley's most skilled mixologists.
Are you looking to host a corporate dinner, wedding reception or even a book club gathering? La Bocca Wine Bar + Urban Kitchen North provides a sophisticated yet intriguing setting for a variety of special occasions small or large. The main dining and lounge patio features a classically modern twist on the vintage Italian feel available with multiple seating configurations.
42 Saint is a men's and women's fashion boutique that offers something different for everyone. The apparel and accessories here are unique and eclectic, offering shoppers a chance to set their own styles, free of the whims of fashion. 42 Saint specializes in the different and distinctive, bringing you great buys from the biggest designers, as well as new favorites you'll love the moment you see them. The emphasis on hard-to-find designers and the helpful staff makes this a great stop next time you're in need of clothes and accessories. Plus, you can grab a drink while you're looking around!
If you're in need of blowouts or makeup services, this blow dry bar has what you need. Founded by a mother and daughter, this spot focuses on a relaxing luxury experience, with the goal of making women of all ages feel beautiful, and has a highly-trained staff ready for every need. Primp and Plow also handles hair extensions, lash extensions, weddings, and more! Varying memberships are also available for regular customers.
ABODE Fine Living carries a collection of mid to high-end furnishings with a mix of casual and formal pieces for an easy, relaxed elegance. They offer products from small accessories to complete a space to unique furniture options to make your home stand out.
Pinspiration is a great creative space for people of all ages. If you're a Pinterest fan, you'll find plenty of great resources here, as well as all the materials and tools you'll need to recreate your favorite crafts. There's plenty of room for budding artists to work on their own creations or get ideas from a rotating selection of projects based on the most popular pinned posts. Help is available for the projects, and after you're done you can relax with a beer or refreshing glass of wine.